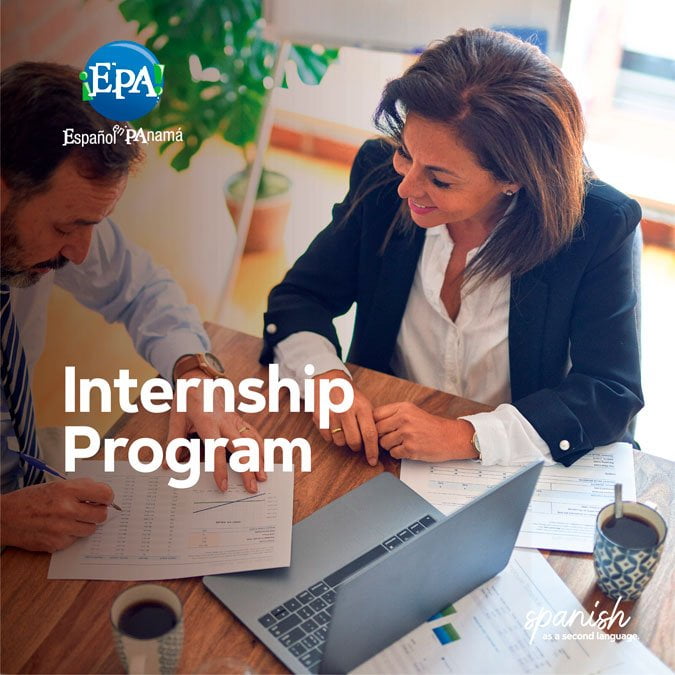 Our program offers students the possibility to improve your Spanish skills on the work force.
The program is available for students aged 18 years or over who have achieved at least an intermediate (B1) Spanish level prior to their work placement. If you Spanish is not at least beginning of B1 we will recommend either to take lessons in the morning and do the internship in the afternoons for at least 4 weeks until you reach level B1.
Internships are unpaid as they are considered a learning experience in which the student is immersed in a professional environment. This combined Spanish and internship program offers applicants a great opportunity to transform the quality of their Spanish, gain real-life work experience and immerse themselves in Panamenian culture. You can let us know what area or areas you are interested so we can look for the best match. We will need your CV send to us.
Lessons per week: 15 hours per week (If you need Spanish lessons). / 20 or 40 hours of internship per week.

Schedule: Monday to Friday from 9:00 a.m. to 12:00 p.m. (50 min. per lessons) / Monday to Friday from 8:00 a.m. to 5:00 p.m. or Monday to Friday from 1:00 to 5:00 p.m. (If you need Spanish lessons).

Class length: 3 hours of group class per day (50 minutes per lesson). 20 minutes of break included.

Class size: 7 students max. per class.

Levels: A1 to B1

Starting date: every Monday, all year round.

What includes? Welcome package, assistance certificate, cultural activities every Thursday, weekend activities once a month, conversational classes every Tuesday and placement in an organization for your internship work.